Eureka Medical Testimonial
In business since 1997, Rank for Sales is a professional Search Engine Optimization firm that has the experience, the tools and the knowledge to significantly increase the visibility of today's websites in the search engines.

Eureka Medical's testimonial speaks by itself and fully underscores today's importance in building a great website that is search engine-friendly, as well as user-friendly. It also confirms the importance of a high visibility in the major search engines.
Eureka Medical Testimonial:
Rank for $ales has been a great partner in helping to design and optimize the Eureka Medical Website to quickly get the visibility we needed. Serge Thibodeau's insight into search engine optimization (SEO) and his continued persistence in driving the website design process to meet our objectives for look, feel and content has been key to our early success.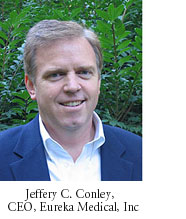 We are now able to attract high quality professionals in the medical field, who take action once they are on the Eureka Medical site.
Serge and his team bring a cost effective, high quality commitment to their work that is key for a young company with limited resources and aggressive plans for growth.
We at Eureka would highly recommend Rank for $ales for website design, search engine optimization and cost effective high speed Web hosting services. Rank for $ale's complete package of services are a great match for a young company with big plans for growth.
About Eureka Medical:
The healthcare delivery system is under tremendous pressure to identify and commercialize simple solutions to quickly lower costs, improve quality ebaconline - design ui online, reduce liability and eliminate preventable errors. Eureka Medical was founded with the mandate to build a motivated network of the best inventors from the medical and healthcare professions.
The combined creative genius of thousands of bright, educated, inspired medical professionals all connected through a network makes for a powerful source of innovation to enhance life. Our Internet strategy has been key to our success in quickly and cost effectively reaching out to the medical profession to communicate our urgent mission to capture innovative medical solutions.
Jeffery C. Conley,
President and Chief Executive Officer,
Eureka Medical, Inc.
Burlington, Mass.    01803
Eureka Medical: Where Medical Inventors and Innovation Seeking Companies Meet.


We strongly suggest you bookmark our web site by clicking here.
Get your business or company listed in the Global Business Listing directory and increase your business. It takes less then 24 hours to get a premium listing in the most powerful business search engine there is. Click here to find out all about it.
You can link to the Rank for Sales web site as much as you like. Read our section on how your company can participate in our reciprocal link exchange program and increase your rankings in all the major search engines such as Google, AltaVista, Yahoo and all the others.



Sponsored by Canadian Local Search Engine

Powered by Sun Hosting       Partner: Avantex       Read the latest news at Search Engine News.ca

Site design by Mtl. Web D.      Host your blog at Blog Hosting.ca      PR by Press Broadcast.ca

SEO articles at SEO Radar   Partner: Web Hosting Review Guide   Partner: Advertorial.org

Partner: Link Rent.com   Partner: Internet Search Engine News.com   Partner: Internet Trends.org

Partner: Brazilian Web Hosting.com   Partner: Marketing Trends.org   Partner: Datapack.org




Call Rank for Sales toll free from anywhere in the US or Canada:   1-800-631-3221
email:   info@rankforsales.com

Home | SEO Tips | SEO Myths | FAQ | SEO News | Articles | Sitemap | Contact
---
Copyright
� Rank for Sales 1997-2004  
Terms of use
Privacy agreement
Legal disclaimer
  Ce site est disponible en Fran�ais