Search Engine Placement and Search Engine Marketing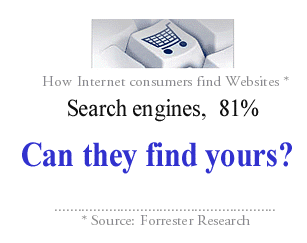 Must reading: How to use Wordtracker creatively!
Rank for Sales is a professional Search Engine Optimization and search engine marketing firm with a strong code of ethics that uses only proven search engine positioning techniques to consistently rank more websites in more top positions than anyone else in the SEO business.
Our leading-edge technology and our search engine placement techniques are currently used by companies that want to fully maximize their Search Engine Optimization, while significantly boosting their Web visibility in the major search engines.
Rank for $ales is a leading provider of SEO services to today's leading search engines: Google, Yahoo, AltaVista, MSN, AOL, Lycos, Overture, Inktomi plus a whole lot more. This gives us a powerful, competitive edge over our competition. Such a competitive edge offers your website superior visibility in the search engines. If you need to read and learn more on the proper search engine optimization techniques, read our free SEO articles and SEO resources.
Read clients' testimonials
"Rank for $ales has been a great partner in helping to design and optimize the Eureka Medical website to quickly get the visibility we needed".
Jeff Conley, CEO, Eureka Medical.
"For the past year, Ergo in Demand has been using the professional SEO consultative services of Rank for $ales and our search engine rankings have been increasing steadily".
P. Scholom, CEO, Ergo in Demand.
"Your friendly and professional staff has proven invaluable in making suggestions and advising us on how to make our website as effective as possible to grow our business. There are tens of millions of people that suffer from carpal tunnel syndrome with one of the biggest contributing factors to this debilitating disease ironically being computer users." Donna Voiland, Principal partner,
First Hand Medical Inc.
Search Engine Optimization is just one part of an online marketing strategy, but it is the fundamental part. Search engine placement and keyword-related marketing can account for 85 to 95 percent of your overall Web traffic. Our team of Search Engine Optimization experts know how to significantly improve your Search Engine Optimization.
The field of Search Engine Optimization and Search Engine Marketing (SEM) is an area where exaggerated claims, myths and finally trial and error is encountered daily. Since 1997, Rank for $ales has been performing professional and ethical Search Engine Optimization for its corporate business clients spread all over the globe.
We strongly suggest you bookmark our web site by clicking here and visit SEO courses on Ebac.
You can link to the Rank for Sales web site as much as you like. Read our section on how your company can participate in our reciprocal link exchange program and increase your rankings in all the major search engines such as Google, AltaVista, Yahoo and all the others.
Get reliable and professional Windows Web hosting services
Read the latest high tech news
Sponsored by Montreal Server Colocation
Get a dependable Linux or Windows Dedicated Server and at a great price
Sponsored by: Linux News Today.org
Sponsored by: Sure Mail - When you have to be sure.